Street Chaplains WA content
Street Chaplain Image Slider
Street Chaplains WA
Dynamic team-oriented volunteers from a wide range of Christian churches who are living out the call to be "Good Samaritans".
Street Chaplains WA Introduction
Street Chaplains work on the streets of our State's cities and towns. They provide crisis pastoral care unconditionally to any in need. The chaplains offer compassion and practical help to all who need and want it. They always work in teams providing first point of care resources.
JOIN US AT THE INFORMATION SESSION
INFORMATION SESSION
Upcoming Information Night
We are excited to announce our next information session, which is scheduled for Monday, January 29, 2024, at 7 pm. The event will be held at Perth Bible College, located at 1 College Ct, Karrinyup, WA 6018.
If you have any questions or require further information, please feel free to contact us at admin@streetchaplain.com
We look forward to seeing you there!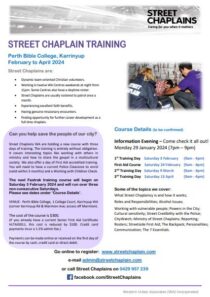 JOIN STREET CHAPLAINS WA
PLANNED TRAINING DAYS February to April 2024
Upcoming Training – New Members at Perth Bible College.
We are excited to announce our upcoming FASTRAK course dates for new members, which we are planning for the following dates:
1st Training Day Saturday 3 February (9am – 4pm)
First Aid Course Saturday 24 February (9am – 4pm)
2nd Training Day Saturday 9 March (9am – 4pm)
3rd Training Day Saturday 13 April (9am – 4pm)
Location: Perth Bible College, 1 College Ct, Karrinyup, WA 6018
To secure your spot, please reach out to admin@streetchaplain.com to complete the registration form prior to the event.
People helped in Perth city
Chaplain Centres across WA
OUR VISION
"But if anyone has the world's goods and sees his brother in need, yet closes his heart against him, how does God's love abide in him? Little children, let us not love in word or talk but in deed and in truth.
Our vision as Street Chaplains is to contribute to the peace of the city so that those on the streets have care and confidence. We do not preach at people but put a priority on deeds of love and care. Street Chaplains respect the broad range of cultural traditions and religious views in the community and work alongside those of all beliefs.
WHAT WE DO!
Being present when everything around is upside down

...love others as you would love yourself

Aiming to be "Good Samaritans"
Home – Front Page New